3 Reasons Why You Need To Care About Your Socks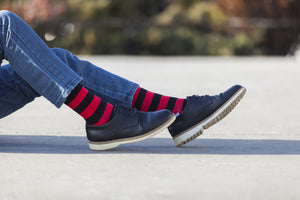 Socks is an underrated fashion accessory, for real. The tiny accessory that covers your feet when wearing shoes doesn't get the love or attention it deserves. Sure, it's not a huge item of clothing like pants or a shirt, but it still complete the look of your outfit and can totally be a reflection of your style and personality. Many people underestimate the powerful fashion statement your socks can tell and opt for regular, boring black or white socks depending on the occasion and outfit. But if you really want to be unique and have fun with what you're wearing, you'd definitely up your sock game and go for something crazy or wild or of a completely untraditional sock color! Here are a few ways your socks do more than just protect your feet:
1. They show your personality
For those who have to wear a boring uniform to work or school all day, socks allow them to show off their personality and individual style since it's something that can easily be hidden when needed, but can still be seen in a subtle manner. Wearing crazy pattern socks in wild colors can express volumes about your personality, especially when you follow a dress code, allowing you to show off your individuality.
2. They add to your style
Socks are more than just pieces of clothing and can compliment your fashion style. The right colors can make or break an outfit for both men and women, while being bold with patterns can be the statement piece your outfit needs to be complete. Matching your socks to your outfit shows that you care about what you wear – all the way down to the small details like your socks!
3. They make life colorful
Wearing black or white socks gets old really fast. Life is too short to wear boring socks, which is why many like to wear socks with bright and bold colors and designs. Funky socks makes life colorful!
Leave a comment
Comments will be approved before showing up.