A quick guide on How to wear socks with Your loafers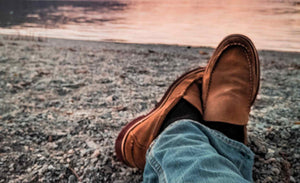 Sporting loafers and socks are definitely a trendy look that easily registers. Pairing socks with loafers can unexpectedly add a twist to the appearance, offering a layered proportion as well as a subtle color introduction, given the favorable majority of loafers without socks. The combination, however, can be a little difficult to pull off, which is why we've built this guide on how to wear both together.
There are two golden rules for socks, Regardless of the pairs you wear: 
They must be pulled up full, 
Or trimmed down entirely 
Start over if the bands of the socks are clear. You're not going to leave the house looking like that. 
Please note that there are no real guidelines on whether to wear socks with loafers or not. So many fashion gurus and magazines promise that the right answer has been found, but none of them have succeeded in presenting the facts of that case.
Calf length socks 
In the case of formal loafers, calf-length argyle socks offer a classy look. Usually, Argyle socks are multi-colored, from muted colors to bright and clashing. When the Scottish clansmen used their tartan to make foot coverings, they made their debut back in the 16th century in West Scotland, resulting in a timeless and special pattern of diamonds. Argyle socks are often related to golf, but they fit seamlessly with dress loafers. They aren't too showy, but they can make your outfit even more interesting.
Go for a neutral color 
This will have a focal point and bring more texture to your neutral looks, play with the color of your socks. Dusty brown loafers, particularly in combination with a beige blazer, are going to fit well. Alternatively, go to the beige loafers and tie them together in a more obvious way with brightly colored socks.
Loafers with suits 
Socks with loafers will provide an unusual feature for more corporate looks, offering a useful accompaniment to workwear that will prove both elegant and comfortable. Corporate suits with matching socks or a different shade for a sharp contrast. And please keep in mind the type of socks used for these looks, ensuring they are professional and somewhat traditional too. 
Going casual 
Great for a warm day of accompaniment, loafers and casual wear socks are both practical and fun to wear on a regular basis. Darker denim with light socks or light-washed denim with darker-colored contrast socks that will prove easy yet visually efficient. Keep in mind the color of your loafers, worn browns, and dove grays fit surprisingly well with jeans, and fabrics like velvet or suede are easily adaptable and match casual looks affably.
How to wear loafers with socks: Men 
For men, the color of the socks must fit the loafers whether you wish to look spiffy, conservative, or old-fashioned. At fancy events, and if you wonder do you wear socks with loafers? Certainly, for formal occasions, since going sockless with loafers is deemed unacceptable. They are to be worn with dress socks to save yourself from public embarrassment. If you think your sockless feet won't mind your boss or the president of such-and-such, think again. You are good to go once you do not stand out like a sore thumb.
You can show your creativity without overdoing it by tossing in some colors and prints to suit your style and increase your confidence in order to attend a casual event such as a community barbeque, children's birthday party, or something of the same caliber. Wear these socks as they are the most flexible, with neutral loafer colors such as burgundy, tan, dark brown, navy, or grey. Or, if you want your socks to stand out, but you don't want to be out there too much, consider neutral contrasts. With black loafers, it's pretty obvious that any non-neutral colors will stand out. 
How to wear loafers with socks: Women 
Appearing delicate and classy, particularly when it comes to a formal event, calls for thin, white socks. It's easy, it works. Try folding over the top of each sock for extra cuteness. Fishnet or sheer socks will do the trick of spicing your look, as well as ribbed silk, shimmering/metallic, and floral-printed socks.
Girls can go all out with more creative colors and patterns as well, following the same logic as men's socks and loafers: make those socks the statement piece, or match them with a hue in your outfit. Think darker or muted colors like maroon, emerald or moss green, plum, and navy.
With attention to floral patterns, they demonstrate fragility, vibrance, and sophistication. You can easily mix and match them without losing their classic charm which they have held throughout history. Their longevity helps them fall into many niches and styles, including being paired with loafers of any sort.
Leave a comment
Comments will be approved before showing up.