What type of socks to wear with white sneakers?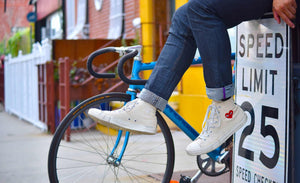 Who would not want to wear white sneakers in this unique era of streetwear? These shoes are trendy, charming, and excellent in appearance. 
But many people seem to be puzzled as to what socks to go with white sneakers? Maintaining balance with the white color is so confusing. 
However, you'll get to know how to pick white sneakers and the right socks to go with, in this article. Also, whether or not you need to wear socks with your white shoes.
Color of the socks 
First of all, let's know which color socks you should wear. When it comes to Color, the intention of wearing can vary. You've got to know where you're going in these white shoes. Then, select the color of the socks depending on your destination.
For instance, you can wear white socks with your white sneakers if you are going to a meeting or interview. It will affect the proper look of the dress.
You can go fancy and wear bright spring socks with shorts if you're going to hang out. It's going to look genuine as well as impressive.
You should try black socks when you wear black suits. But make sure it's not a very hot summer day when you wear these black socks.
Length of the socks 
It is necessary to keep in mind the length of the sock. And it would be cooler if you weren't wearing too long white sneakers socks. There are actually various styles of socks of different lengths available. Like an insole sock, ankle sock, and a half-length sock. Both of them can be worn with your white sneakers. 
Insole socks
Insole socks are often made of cotton and are also very comfortable and soothing to wear. A lot of people experience irritation and suffocation when wearing a sock. These socks would work great for them. And if you're going to apply white shoes to them, it would be perfect!.
Insole socks, however, are preferable. Since they're kind of insole but also comfortable to wear with sneakers. So, you can have this if you don't prefer to show off your socks.
The design of the socks 
Don't neglect the sock's design and style. It can have an effect on your outlook generally. If you are wearing white sneakers, certain aspects need to be noticed. 
You can not wear any design or style of socks at random. It not only messes up your outward image but also gives others a wrong impression.
So, if you wear socks with a simple design, it would be nice enough.
Do not wear your sneakers without socks! 
Well, many people don't like to wear socks with sneakers. For some time now, men have been wearing pants or jeans in a shorter way to leave the ankles naked and visible.
Some people even do it in the winter because they think it's pretty. But how many people forget to wear socks, why do it? It has to be said that there are some, I've especially found that a lot of people do that.
Not wearing socks with your shoes is a way to infect your feet! How? Our feet sweat all day long, up to 1/4 liter of water, our feet are in a hot and humid intoxication that contributes greatly to the proliferation of bacteria and at the same time unpleasant odors.
The most common infection is a fungal infection, which causes fungi to appear on the feet. Do not forget to wear socks and regularly clean your sneakers to prevent infection of your feet.
Leave a comment
Comments will be approved before showing up.