What type of Socks to wear with sneakers?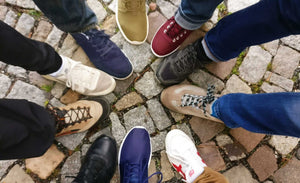 Simply each kind of shoe has a particular type of sock that fits best, and it just looks odd when you're wearing the wrong sock. And just as a whole outfit can be thrown off by the wrong shoe, so too can the sock be matched with your sneakers. 
In everyday life, socks are essential. Without them, it will be worse for our feet. they would be left sweating in your sneakers. With socks, Our feet are provided with an additional layer of support as they take us through our everyday routine. Your socks do more than just protect our feet and shoes. 
However, in this article, you'll get to know how to pick the right socks to go with your sneakers. 
Color of your sneakers
Your sneaker color plays a significant role in what kind of socks to wear with your sneakers. Most people often strive to match the color of their socks with the color of their sneakers. 
For instance, black sneakers, they pretty much go with anything and everything, black sneakers go with most clothes, pants, socks, and other accessories. 
If you are wearing white sneakers in the summer with shorts, you rather wear no-show socks to show off your sneakers or the usual style with shorts is to wear colorful crew length socks. 
For any other color or colorful sneakers, it's better to match the color of your socks with the color of your sneakers. 
Color of the socks 
First of all, Let's know what color socks you should wear, The purpose to wear will differ when it comes to color. You've got to know where you're going in these sneakers. Then, select the color of the socks depending on your destination.
For instance, if you are going to a meeting or interview, you can wear white socks with your sneakers. The proper look of the dress would be influenced by it. 
If you are going to hang out, you should go fancy and wear bright spring socks with shorts. It will look both real and impressive. 
When wearing black suits, you can try black socks. But make sure that when you wear these black socks, it isn't a very hot summer day.
Length of the socks 
It is necessary to keep in mind the length of the sock. And it would be cooler if you weren't wearing too long socks. There are various styles of socks of different lengths available. Like an insole sock, ankle sock, and a half-length sock. Both of them can be worn with your sneakers. 
What socks go best with sneakers 
Insole socks 
Insole socks are often made of cotton and are also very comfortable and soothing to wear. A lot of people experience irritation and suffocation when wearing a sock. These socks would work great for them. And if you're going to apply white shoes to them, it would be perfect!. 
Crew length socks 
If there is one type of sock that everyone should have in their closet, it's the crew sock. This classic sock style hits just below the middle of the calf. It also happens to be one of the most popular types of socks, This would be a good fit for any color of sneakers you wear. 
Ankle socks 
Ankle socks cover your entire feet and just reach right below your ankles. For those hot summer days, a lot of people opt for a sock that offers less coverage. This could also be worn with any color sneakers and with shorts too as they barely show the socks so it would have a clean look. 
Do not wear your sneakers without socks! 
As much as you may think your feet are clean, that won't be the case if you stop wearing socks. Your feet can produce 500 ml of sweat every day. To put that into perspective, that's about 16.9 fluid ounces, which is slightly larger than the bottle of soda you buy at the grocery checkout. To put it another way, that's more than one pint of sweat. That's a lot of liquid!
If sweat were a sterile fluid, that much liquid in your shoes would still be a bad thing. Unfortunately, sweat contains bacteria. Bacteria thrive and reproduce rapidly in damp and dark environments. Those pristine feet you pride yourself on having are going to stink if you don't put on some socks. 
Leave a comment
Comments will be approved before showing up.