3 Tips to Get the Best Socks for your Feet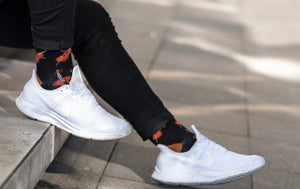 If you are thinking of buying socks but are unsure of the brand you wish to purchase, I am here to help you with the same. I know buying socks is a piece of cake for others, but not for those who make sure they spend at least fifteen minutes on researching before buying every single thing they own. Your hard earned money doesn't deserve to be spent on wrong things. Therefore, you are right in thinking so much and reading this before taking any decision of buying a specific brand of socks.
Tip 1:
Read about the brand you have come across on internet. No matter how old or new the brand is, make sure you visit its website and read its history. Read everything that you can to get enough information to satisfy your thirst for knowing about the company. The moment you have sufficient knowledge in your hands and you think you can buy fun socks online from its e-store, go ahead and purchase a few pairs.
Tip 2:
Once you have enough knowledge about the company, it is time for you to get a feedback about its products (in case you aren't satisfied with the knowledge). In order to trust the quality of the product, you must read the feedback given by different customers of different unique male socks. Most of the manufacturing companies have a section in which genuine customers leave genuine feedback about the socks they purchase. If you think some of the reviews are simply 'made-up', the best thing you can do is go to different online forums and ask questions related to the brand you want to try. Once you have enough positive responses related to the brand, you can buy men socks online from its e-store.
Tip 3:
People often buy socks that are cheap; what they don't understand is that cheap socks are no fun socks. If you want to buy unique male socks, you have to stretch your budget and spend a little more than the price you have in your head. This is because cheap socks are often no good quality socks. If you want to buy high quality socks, you have to spend more and go for those that are a little higher than the other socks in the market. I don't expect you to buy expensive socks, but make sure they are neither too cheap nor too expensive.
Leave a comment
Comments will be approved before showing up.