7 Reasons Every Man should wear Socks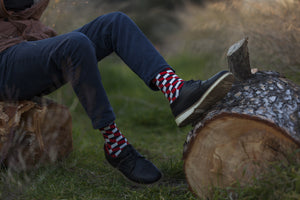 Just because you are a man doesn't mean you can't wear socks! I personally know a lot of men who prefer wearing socks, even when they are out with their friends and not at work. I believe every man should wear socks. There are hundreds of reasons why, but the top 7 reasons are mentioned below:
Because every man deserve to have colors in his life: There are thousands of colorful men socks available in the market; all you need to do is visit to a good e-store and choose all the socks that you wish to own. Once you know what kind of socks you want, buy them and wear them to create and flaunt your very own style.
Because there are unique male socks available for men: You should wear socks because there are various e-stores that sell unique male socks. Choose the products wisely and stay unique, despite walking in the crowd.
Because men deserve to wear funny socks, too: Why is it that a man can't wear funny socks? Let's not get into gender biasness when it comes to fun and socks. Go ahead and buy all the cute socks that you want to and wear them whenever you want to spread happiness.
Because men look amazing when they wear socks: All men look good in socks and there's absolutely no doubt about it.
Because you can buy socks online: Men find it boring to leave their house just for the sake of buying socks; don't worry, now you can easily find all the socks that you wish to buy and wear because there are several e-stores that let you buy colorful male socks.
Because socks make you feel good: It doesn't matter if you are at work, meeting a friend, going out with your girlfriend or at home, socks make you look good and feel good as well. Some of the cotton socks are not to make you feel warm; there are a few men who don't feel comfortable without their socks on their feet.
Because men feel cold, too: Most of the people believe that men don't feel cold; this is untrue. Men feel cold, too! Cotton socks are good because they ensure to keep your feet warm and cozy. You feel amazing when your feet are covered with thick socks that are manufactured from high quality cotton.
Leave a comment
Comments will be approved before showing up.