8 Things to Consider Before Buying Socks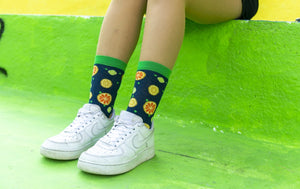 And you thought buying socks was a piece of cake? And you thought you don't have to consider anything before buying a pair of socks? And you thought you could pick up random socks from land based or online stores?
To be honest, choosing socks is not difficult at all, but if you are a perfectionist and you want to choose awesome socks for your feet, then you have got to consider a few things out of which the top 8 are mentioned below:
What do people say about the manufacturing brand of socks you are planning to buy?
Read about the company you are thinking of trusting and buying the socks from; if there are a lot of positive reviews or feedback from customers, you are surely making the right choice. You can trust the quality of the socks if most of the customers are satisfied with the brand.
Is the manufacturing company or brand genuine?
This is something you need to find out on your own – does the company have its website? Do people know about the brand you are planning to count upon for your socks need? What does your inner gut say?
Are the socks affordable or in your budget?
If the socks are not affordable or are pretty expensive, you can't buy them. I don't expect you to buy cheap socks, but always buy those that are worth the money you pay.
Are you sure about trusting an e-store for your socks need?
If you are thinking of buying socks from an e-store, make sure it's a genuine one and it has had satisfied customers in the past.
Can your friends help in selecting good socks for your feet?
Talk to your friends and find out the company they trust for their socks needs.
Do you want to wear them during winters or do you want socks that can be worn in any season? Pick socks depending upon your needs.
What kind of socks do you need?
Socks are available in different materials – cotton, polyester, etc. The best thing to do is choose cotton socks as you can wear them in any season.
Does the company give any sort of a discount if you buy socks in bulk?
If you want to buy socks in bulk (remember you can always gift beautiful and colorful socks to your loved ones), find out if the company agrees to give you some sort of a discount because most of the companies do.
Leave a comment
Comments will be approved before showing up.