9 Stupendous Things you can do with your Socks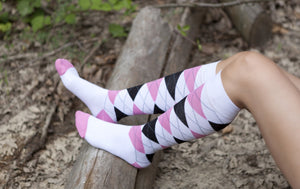 And you thought the only thing you can do with your socks is wear them?
I doubt!
There are hundreds of different small to big things you can do with all kinds of socks you have or are willing to purchase. Wondering about a few ideas to use them? Well, here you go:
Use your socks as Christmas decorative items: If you didn't know this already, you must! Buy a few fun socks and use them as pretty Christmas decorative items for your house. Let the visitors know you have made the decorative items all by yourself and have used nothing but new SOCKS!
Make gloves out of your socks: Do you know how to transform those colorful men socks into gloves? If you don't, watch different tutorials on internet and you won't have to spend on gloves ever again in your life.
Hang colorful socks to give the best touch to the interiors of your house: If you don't want to spend relentlessly on the interiors of your house, I have an amazing idea for you – buy socks online at affordable rates, hang them in different places and fill them with real or artificial flowers with longer stems.
Stuff your socks to transform them into tiny toys: If you want to make tiny stuffed toys out of the socks you are thinking of purchasing from an online store, you can surely do the same. Make sure you buy fun socks for this DO IT YOURSELF project.
Make fish out of your colorful socks: There are ways in which you can stuff those unique socks you get from e-stores and transform them into little fish to decorate your living room with.
Simply gift brand new socks to homeless people: This is the best thing you can ever do for someone – instead of giving old socks to those in need, buy them brand new socks so that they can use them whenever they want to.
You can transform colorful socks into caps for your small soft toys: Search for online funky socks and cut them to turn them into caps for your toys.
Transform good quality socks into bottle covers: Slide bottles in long socks and you have covers for all the bottles you have on the table or in your refrigerator.
Stuff brand new socks with chocolates and gift them to little kids: If you want to do a good cause, stuff chocolates in socks and gift them to children.
Leave a comment
Comments will be approved before showing up.