Choosing Socks for Men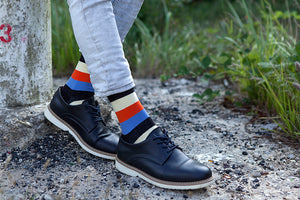 A lot of men have little consciousness on their sock, even if this slight detail might make or smash some looks. Socks come up to a variety of length, patterns, weights as well as colors. The following are choices to be considered in selecting the right socks planned to suit the event. First choice is the length; it can below the ankle, ankle, over the crew or calf. Next is the weight, it can be thinner or thicker. Pattern is the third option; it might be argyle, windowpane or plain. Last is the color, it can be black, white, navy, green, khaki or any color of your choice.
In some athletic situations socks are important. When you go to fitness gym, running or playing some type of sport, athletic socks is ideal. These socks come in gray or white colors, occasionally with stripes and differ from above the calf length to below the ankle. These socks should not be utilized when you are not wearing an athletic setup.
Casual blue socks can be utilized when you are wearing blue jeans. A lot of men and some women make an error in wearing white socks with shady colored pants. White socks for athletics could be utilized when white casual socks aren't available once a white pant is worn. Pants of other colors could be utilized with corresponding casual socks.
Dressier or thinner socks can be used when you wear slacks. The same way, khaki socks for khaki denim, black socks for black slacks, brown socks for brown slack, and others. The same is suitable to suits and some proper attire with white or black ties.
Argyle
This kind of sock is nice to utilize when wearing slacks and jeans or occasionally with suits however cannot be worn with tux or tailcoat. Choose an argyle sock with same shade like the pants. The same rule relates to some designs which are multicolored. One-color models like the windowpane might be utilized with some other matching slacks.
If you wear shorts, wearing socks is not advisable. Longer socks, particularly above-the-calf look somewhat ridiculous. Stop from using socks that are precisely the same color to your sneakers, lest you come out to wear boots. Argyle socks are often the best pick with shorts. Socks should never be utilized with sandals.
White socks are appropriate only for sports. If going to the fitness gym, it is advisable to use white socks. They are good and look more attractive than black socks. If you want to wear dress shoes, sports socks aren't advisable in spite of color. Sports socks are often times bulkier as they are made of cotton which is heavier or some other materials, therefore they have propensity to cluster out of your dress shoes.
Always keep in mind to use dress socks when you are using dress shoes. They slip easier in your shoes and the thin and fine material means that any attention focused in your feet area will keep centered in shoes instead on your socks.
Leave a comment
Comments will be approved before showing up.