Christmas Time? Socks Time!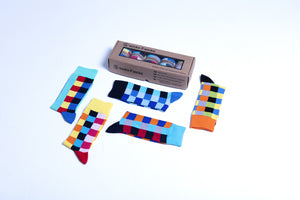 Looking for amazing gifts for your friends and family members? Sick and tired of giving the same t-shirts, perfumes and mugs to your loved ones? Want to do something different this Christmas?
If you haven't read about gifting socks on Christmas, then you must. After all, Christmas comes during winters and this season is all about keeping yourself warm. What can make you feel safe, warm and protected than socks? Thus, you must search for online funky socks and buy unique socks not only for the male members you have in your list, but women as well.
Christmas is not just about the decorative items you buy from the market and place them in your living room to make it look beautiful, it is about the love and warmth that you share. When you gift socks to someone, you let them know that you care; it is like gifting a bit of warmth to them.
There are ways in which you can use funky socks during Christmas.
Firstly, make sure you buy unique male socks so that you can use them as decorative items for your house. Place them on walls, near the fireplace or simply hang them on the edges of the kitchen table so that they look gorgeous along with the lights of the Christmas tree.
The second thing that you can do is slide champagne or wine bottles inside different funky socks; gift it to different people in your list. Such amazing gifts are remembered and cherished all throughout the year. You can always choose to do something else for next Christmas!
The third and the cutest thing you can do with unique socks is simply fill them with a lot of chocolates, tie a bow to pack them and then gift it to the one you love the most. Such unique gifts can be given to your parents, friends and your spouse as well. If you have a lot of kids visiting you this festive season, this is the best way to treat them. Rather than giving chocolate boxes, try chocolate socks this year!
Did you just say you are making delicious Christmas cookies? Wrap the cookies in gelatin papers, put them in different unique socks and tie their opening with beautiful ribbons. No one would be able to resist cookies in colorful socks! Make sure you use cotton socks so that people can use them after finishing the cookies.
Leave a comment
Comments will be approved before showing up.