Custom No Show Socks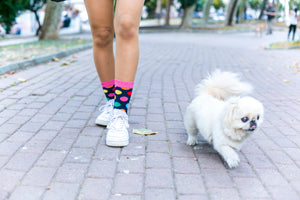 Every athlete, no matter what sports he or she is in, would agree to the reality that wearing the right sporting apparel and gear is extremely important when one likes to reach the full potential of one in any sport. Socks are one of the most important sporting gears that can really make a huge difference to any athlete. Socks are worn in order to make the feet feeling comfortable within any type of footwear. They absorb sweat all over the feet and it also prevents moisture from accumulating.
It also aids in protecting the feet and avoid getting blisters which can be triggered by the rubbing between your feet and your shoes because of excessive moisture. Socks also safeguard the feet from injuries and they will keep your muscles in place firmly. Having the right pair of socks could help you a lot to stay on top of the game and they can really help attain your maximum.
As long as you're not troubled by injury and discomfort to your feet, you will be automatically capable of playing much smoother and better. Problems in your feet would have a great impact over your performance regardless of the sport that you play, be it soccer or marathon. While many games should be on your feet for a long period of time and you could just excel when your feet are both happy.
No show socks are a useful piece of clothing as they're unobtrusive and they could be customized according to your requirements. Customizing your no show socks would help in taking your game to the succeeding level and let you achieve another level of skill. Custom socks are usually made of some materials that are known as lycra, spandex and nylon.
These are much effective when it comes to absorbing moisture and it is helping your feet to remain injury and clean free. Your feet are among the parts of the body that more prone to injury. It is very necessary to keep them safe and protected as when they got injured, it would be hard to heal them back.
Custom socks do just that. They could be of various heights. The most famous height which is used primarily in baseball and football are tube socks which are knee length. In such sports, it's the calf muscles which are the most prone to injuries. These socks will provide protection to the muscles through binding your legs tightly in order to avoid any displacement.
Those socks that are ankle length are typically used for running and basketball. They permit free movement of your feet. Tennis players are the ones who commonly use calf length socks. Another thing that you should consider when you want to use no show socks is their thickness. Thin or thick socks could make a huge difference to your movements and in turn they will depend on the shoes you are wearing.
The specialty of no show socks is that they're not designed to be seen but they are intended to improve your athletic performance. They are proposed to be concealed inside the shoes and are widely available over the web. Look for the best styles and options for no show socks online.
Leave a comment
Comments will be approved before showing up.