Do compression socks help with swollen feet?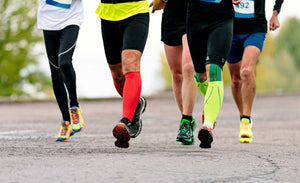 Compression socks and stockings are designed for compression therapy. They apply gentle pressure to your legs and ankles, promoting blood flow from your legs to your heart.
Compression socks can also reduce pain and swelling in your ankles and legs, So yes it does help with swollen feet. 
Read on to learn more about the health benefits of compression socks, how they work, and different types of socks.
What are the benefits of compression socks?
Compression socks, especially in diseases of the veins in the legs, have been shown to function based on medical evidence. It has been found that compression socks have the following benefits : 
Improving blood circulation in the legs

Prevent blood from pooling in your leg veins

Reduce leg swelling

Prevent ulcers

Prevent blood clots in the veins of the legs 

Reduce pain 

Reduce varicose veins 

Improve lymphatic drainage
How do compression socks work? 
Compression stockings apply pressure to your legs and ankles, which may:
reduce the diameter of major veins by increasing the volume and velocity of blood flow
help blood flow up toward the heart
help prevent blood from refluxing downward to the foot or laterally into superficial veins
Types of compression stockings
The three primary types of compression stockings are:
Graduated compression stockings
In graduated compression stockings, the level of compression is strongest at the ankle and gradually decreases towards the top. They're designed for mobility and to meet certain length and strength medical specifications.
Graduated compression stockings typically require professional fitting.
Stockings that end just below the knee help limit peripheral edema, or lower leg swelling due to fluid buildup.
Stockings that extend to the thigh or waist help reduce the pooling of blood in the legs and help prevent orthostatic hypotension.
Some suppliers offer features for personal preferences, such as color, and a choice of open- or closed-toe.
Anti-embolism stockings reduce the possibility of deep vein thrombosis.
Like graduated stockings, they provide gradient compression. However, the level of compression differs. Anti-embolism stockings are designed for those who aren't mobile.
Non-Medical support hosiery
Nonmedical support hosiery doesn't typically require a prescription. They include elastic support hose and flight socks sold as a potential relief for tired, aching legs.
These deliver uniform compression that exerts less pressure than prescription compression stockings.
You can find nonmedical compression stockings at most pharmacies or online.
Disadvantages of compression sock 
They can be too tight for some.
Because compression socks are usually tight-fitting, some people who are not used to wearing tight garments can feel restricted and uncomfortable. Also, the optimal pressure points for some kinds of compression clothing may not work so optimally with certain body types.
They are uncomfortable to wear in certain conditions.
Wearing an additional layer of clothing that covers up most of your legs can be too much for some, especially during summer days. Even if most compression gears are designed to wick sweat, there is still less airflow. And even if you just wear them after working out, being covered up is much more uncomfortable at a time when you would rather just be airing your body out.
They cause itchiness and dry skin.
Some people may just have extra sensitive skin while others' epidermis reacts when it cannot be aired or dried right away after breaking a sweat. If you feel itchy or have dry skin due to compression socks, it is recommended to apply moisturizing lotion before and after wearing them.
There are so many kinds of compression socks you can choose from today, so make sure you get a pair that is perfect for you. Don't hesitate to ask experts for advice and to do your fair amount of research before buying.
Leave a comment
Comments will be approved before showing up.