Everything to Know About Your Winter Socks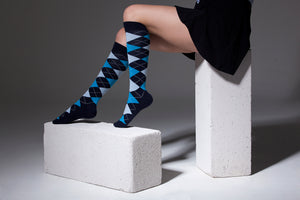 Your sock drawer probably is crowded with variety of styles and colors of socks. At the same time, it's likely that a quality winter sock is what's missing from your sock drawer, right? Or maybe what you have is some old one along with your equally old ski gear.
Why You Shouldn't Wear Cotton Socks in the Winter?
If you don't have winter socks, that's really unfortunate since wearing ordinary cotton socks during winter will have your suffering from cold feet and frostbite especially if you engage in strenuous activities. No matter how fancy your winter boots maybe, this will not be enough to protect your feet from cold.
What's more, a lot of people don't realize that their feet are more likely to suffer from cold when they wear cotton socks than when they wear no socks at all. How is that possible? The reasons why cotton socks are terrible choices for winter weather is because they have less insulation value. At the same time, it is also because cotton absorbs and holds moisture.
What is even worse is that when your cotton socks get wet, they lose all their insulation value and then coat your foot with sticky film of water. So when you wear cotton socks during winter weather and your foot perspires, your sock will lose insulation, absorb the moisture and then holds it. So instead of keeping your feet warm, it ends up coating your feet with film of water and that's not ideal unless you enjoy cold, slimy feet.
Why You Need Quality Winter Socks
Knowing how cotton stocks are not ideal to wear during winter, you certainly need a quality winter sock especially if you spend more time outdoors during the cold weather. Moreover, winter socks are not only ideal for outdoor use but also for those that suffer cold feet even when they were just at home. If you suffer from cold feet, take a look at your socks.
If your socks are made of cotton, it is almost like sitting barefoot with your sock probably doing more harm than good. That being the case, the best type of sock to use during the winter weather is the winter sock which are can be made from wool, shearling, fleece or any similar type of materials. Socks made from these materials are excellent for cold and wet seasons.
Why winter socks are great for such seasons is because even when the socks get wet from the perspiration of your foot, they still gave insulating properties. Most winter socks are also generally thicker compared to ordinary cotton socks which allow it to absorb more moisture. Even more so, winter socks have the ability to dry themselves out when you simply wore it.
Body heat is enough to dry out this type of socks and as such, it makes it most ideal for when in cold weather and you need to engage in demanding activities. Don't let your feet suffer from wearing too think and uncomfortable cotton socks when you could have winter socks to keep your feet comfortable in the cold weather.
Leave a comment
Comments will be approved before showing up.