For Her: What Kind of Socks do you Need?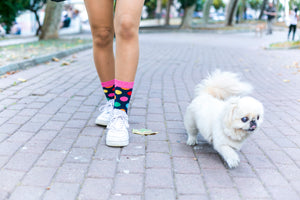 Hello there lady!
Are you looking for amazing socks for your lovely feet? Have you already visited several e-stores that are into socks, but are unable to decide on what kind of socks you need? Are you looking for an elaborative article on how to select perfect socks for yourself?
Then you are on the right page – I am here to tell you about the kind of socks you need for your feet.
The first thing that you need to do is check whether you are comfortable with no show socks, ankle length socks or long socks (also known as swag socks).
No show socks are worn under shoes and despite being there, the others are unable to see them because they are designed to hide under your shoes.
Ankle length socks are quite like no show socks, but they stretch till ankles. A lot of women wear such socks under sandals as well. There are several colored ankle socks that look awesome on your feet, especially if you wear them under right kind of shoes or sandals.
Long socks or swag socks stretch up to your knees and can be worn under shorts, skirts and all those tiny outfits you have in your wardrobe. Such socks are amazing and quite unique in their own special ways.
In order to find out what kind of socks you are comfortable in, all you need to do is buy different kinds of socks, wear them and check. The best thing about owning all kinds of socks is that you can wear them under everything you have in your closet.
There are times when you feel cold at home, but are too lazy to load yourself with warmer clothes. This is the time when you need long socks; there are other times when you want to wear socks while doing your Yoga Asana – this is the time when you need ankle length socks and then there are times when you don't want others to know you are wearing socks under your shoes; this is the time you need to wear no show socks. Once you know what kind of socks you adore the most, you can buy more of those and keep them in your closet to wear them whenever you wish to.
No matter what kind of socks you purchase, make sure they are manufactured from high quality cotton under the roofs of a well-known company.
Leave a comment
Comments will be approved before showing up.