How often should I replace my socks?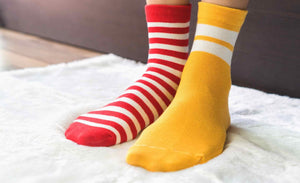 How Often Should A person Replace A Pair Of Socks? They're not something people really think about that often. You put them on your feet, they keep you warm, and that's that.
Unfortunately, out of all the things you're wearing, your socks will take the most abuse, for the main reason that they are thin, have to stretch to fit the size of your feet, and if you're not cutting your toenails often, the nail itself can degrade the fabric.
No matter how much you pay for your sock, your socks will soon have a hole in them, and nobody wants to have holes in their socks or smelly socks. But here are the signs that you need to buy new socks:
Discoloration 
We've all experienced buying a funky new pair of funky polka dot or colorful argyle socks, only to find your shoe stain has made its way onto your great new sock wardrobe. 
It's frustrating when your classic paisley socks have a nasty black stain, maybe from rubbing on your track or work shoes.
Holes 
This should be obvious but sometimes, it is not. A big hole that your toe pops out of might seem a no-brainer, but even holes in the heel or closer to the tops of your socks can lead to blisters or calluses. Holes into which your toes can slip and get caught up are very uncomfortable and can cause toenail distortion. 
Stretched elastic
If the elastic on the top of your socks no longer hold them up, it is time to ditch that pair. If you're forever pulling up your socks---or you notice one leg feels colder than the other, treat yourself to superior-ribbed-top socks; the Spandex in many socks will be especially present at the sock cuff. 
Just like holes, droopy socks can be embarrassing but also lead to bunching and friction which can hurt your feet. In addition, droopy, saggy socks cause trip hazards, especially when coming downstairs. No old favorite pair of socks is worth breaking a limb. Sack the stretched and saggy socks.
 Threadbare sections
If you can see through the socks right to your foot, it is time to toss them in the trash. 
Threadbare sections are also a hazard. Thin patches cause abrasions to soft areas of the feet and contribute toward skin irritation, slips, and trips. Plus, thin socks let the inner soles of your shoes stick to your feet, and that's unhealthy since the accruing moisture of the foot is not being wicked away. 
How can I make my sock last longer? 
Washing socks in hot water damages them. If you have a great pair of striped socks or colored ones, hot water will make the colors bleed. 
Hot water can also fade colors and shrink materials. Many people think that you need hot water to wash socks but this is not so unless they're for hard wear or sports.
Avoid bleach and harsh chemicals
Even with white socks, bleach is not the answer. Using a harsh chemical detergent, stain remover, or bleach will hurt the delicate fabric of your special socks and lead the elastic to go or holes to develop quicker. Some bleach-based products will actually disintegrate fabrics right away. 
Some of you may be reading this and thinking, "What? People don't iron socks!" Unfortunately, you are wrong. People do iron socks and this is not good. If you feel you need ultra-pressed socks, try putting them between two heavy books overnight.
One more tip for extending the life of your socks is to make sure your toenails are nicely clipped and your feet smooth and soft. Almost nothing will cut through a beautiful new sock and create an ugly hole faster than a sharp toenail aided and abetted by neglected, rough feet. When you keep your toes soft and well-manicured, that will help them last longer.
Leave a comment
Comments will be approved before showing up.