How to wear socks with your converse ?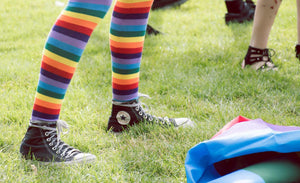 Converse shoes (also known as Chuck Taylor All-Stars) are bold, classic, and they look great with fun socks! Wear a pair of funny socks from our collection of socks and socks with your converse and launch a new trend.
Since its invention in the early 1900s, Converse shoes have been worn by basketball players, rock stars, authors, and Hollywood actors. For several reasons, Chuck Taylors are synonymous with the punk rock of the 1970s when bands like The Ramones and The Sex Pistols wore them. And why did they pick Chucks? Because it was cheap!
Converse shoes are as popular as ever. But what socks do you have to go with your Converse shoes? When choosing a pair of socks to go with your All-Stars, look for socks that feel fantastic and match the unique personality of your shoes. After all, you wouldn't want to wear a pair of basic socks with a bold statement shoe like that. Here are some of our favorite looks for you to get started.
No show socks 
These socks are also called invisible socks or low profile socks, but most people refer to them as no show socks.
Unlike crew socks and over the calf socks, no show socks are designed to be invisible. They're meant to be worn with low top shoes like sneakers, loafers, moccasins, and converse. 
Wearing the no show socks with converse will be a cool look, especially if you are wearing shorts. No show socks also match well in both high top converse and low converse
Ankle socks 
Ankle socks are longer than no show socks but shorter than crew socks. They end right at, your ankles, and they're not meant to be invisible.
It's my opinion that ankle socks should be reserved for utilitarian purposes like running, hiking, or playing sports.
But it could also go well with converse if you are wearing pants and a casual outfit. 
So wear em' proudly, but don't forget to match your theme.
Short crew socks 
These are also called micro crew socks or mini crew socks. I've even seen them called quarter crew socks, as some brands sell crew socks in various lengths.
The point is, these are longer than ankle socks but shorter than standard crew socks.
This means they're about 6″ tall and end above the ankle and below mid-calf. These can look good with your converse, even if your wearing shorts or pants 
Crew socks 
These are probably the most popular socks in most guys' drawers and most department stores' underwear section.
Crew socks go up past your ankles and hit right around the mid-to-upper calf. They're longer than loafer socks or ankle socks, but they don't go up to your knees like over the calf socks.
Most crew length socks are made from 100% cotton, although cotton-polyester blends and other synthetic materials are increasingly popular, and you can find crew socks made from wool or even silk if thats what 
Wearing your converse without socks? Yes or no?
You should never make the mistake of wearing Converse sneakers (or any shoe) without socks. Not only will you get blisters, but it's extremely unhygienic and almost always leaves an unpleasant smell that never seems to leave your shoes. Instead, you'll want socks that can manage moisture and keep your feet happy, healthy, and comfortable. Here are some reasons why you always wear socks with your converse: 
Yes, this is the number one reason why you should always wear good quality and breathable socks.
If you have sweaty feet or smelly feet, then your feet are sure to spread a foul smell in the vicinity wherever you go.
That is an embarrassing and bad impression of your overall personality in the other's eyes.
Increased Chances of Fungal Infection:
If the upper of your shoe is not properly breathable, then it can lead to excessive moisture, bacteria, and heat inside the shoe.
And this is not good for your feet.
On the other hand, if you have really sweaty feet; too much sweating can result in fungal infection if you do not wear breathable socks.
Some of these infections can lead to foot ailments such as Athlete's Foot.
Higher chance of getting blisters 
Then there is always a risk of rubbing your shoes with your little toe or heels.
If your Converse shoe is not a comfortable fit, then there are higher chances of it rubbing to your toes, heels, and ankles.
This constant rubbing often leads to painful blisters.
If you do not pay attention to them in time, then these blisters can lead to further complicated health issues.
By wearing a quality pair of socks, you can prevent this uncomfortable rubbing and thus can prevent having blisters.
Leave a comment
Comments will be approved before showing up.