Important Benefits Of Wearing A Pair Of Socks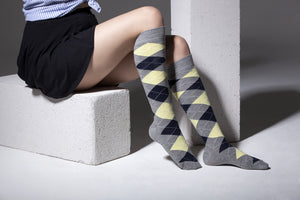 There are so many different kinds of socks today. There are cotton socks, wool socks, silk socks, athletic socks, argyle socks, toe socks, fuzzy socks… etc. Different people have different preferences for socks because they wear socks for different purposes.
It is believed that wearing socks is a good way of expressing your style, mood and personality. In other words, the kind of socks you wear speaks volumes about you. Apart from these benefits, wearing socks has some health benefits that are not known to a lot of people.
Prevention of odor
Every pair of feet has about 250,000 sweat glands. This is why the human feet also sweat. The sweat will definitely give off offensive odors if not absorbed or dried up. This is where a pair of socks comes in. The socks will absorb all the sweat thereby preventing foul smell from emanating from your shoes.
Fashion
Wearing a pair of socks beautifies the feet so much. It completes the outfit especially for men. Can you imagine how odd you will look in a formal dressing without a pair of socks? Wearing an expensive suit with a nice shirt, great tie, well tailored pair of trousers and a pair of Italy made shoes without a pair of socks? Awkward…. Isn't it?
Warmth
Socks give a layer of insulation that can keep the feet warm during winter. They help to maintain the temperature of the feet. By so doing, they prevent several cold-related medical conditions like hypothermia and frostbite.
Prevention of dust
Socks do not only protect the feet from cold. They also protect the feet from dust. This is why your feet will remain clean when you are pulling off your socks later in the evening. Some nylon socks also protect the feet from moisture and dry air during harmattan.
You can only enjoy all the benefits listed above if you buy the right kind of socks. Here are some tips on choosing the right pair of socks.
The first common mistake is that men believe that a particular pair of socks can be used for different purposes. It is wrong, there are socks meant for sneakers (for sports), there are socks meant for formal dressing and there are socks meant for casual outing. You have to figure out the purpose of buying it.
Secondly, good sock should not just absorb sweat, it should be able to distribute the absorbed sweat uniformly towards the outer surface. This process is known as wicking. Any pair of socks that lacks this essential quality should be avoided.
Your sock should be an additional padding to the sole of your foot. So, a good sock should be well padded at the sole. It should be able to reduce the friction between the sole of your foot and the interior sole of your shoe.
Leave a comment
Comments will be approved before showing up.