Important Factors to Consider when Buying High Quality Socks Online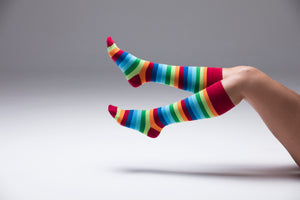 It is a fact that socks are one of the important items that should be given a specific place in your wardrobe. This is because you need them for different shoes, different occasions and different attires. You will definitely not wear sport socks with your suit. It won't work at all. You will find them made of different designs, sizes and materials. It is not a difficult task to shop for your feet. It may look like especially if you do not know where to go. Some come in with discount tags on them. There are expensive socks. You may as well know where they fall and trade where you will come off with some cash still left in your pocket.
Many people buy their socks online. The reason for this is very simple. They can easily and quickly get a wide range to choose from and sellers know what the people want. This is one of the reasons why they are eager to offer great prices. The low overhead makes it possible to find them at very affordable prices. You may also discover lots of discount sales online. There are promotional sales also that you may want to benefit from. Here, you will discover and learn the important factors to consider when buying high quality socks at affordable prices online.
Material- The material with which the socks are made is one thing you may not take lightly. This ensures the durability of the socks and the comfort it leaves on your feet. This is the kind of information that should come handy with the product.
Price- You may take time to compare the prices for the same item offered by different merchants. There are some who offer very reasonable prices for their customers. Comparing prices will definitely help you get that which suits your budget.
Reputation- You may need to know if you are trading with a reputed merchant. There are great merchants and there are also those who are a thorn in the ass. You will know merchants with quality customer service from reviews left by buyers like you on their site and on the product. Checking if the merchant provides good and quality services is your homework. This may take you some time, but it is worth the wait and pain.
Determining your needs- You will need to identify what you feel most and what you really need. Things like foot perspiration and toe irregularity are things you may need to know. You may also consider for what occasion you need those socks such as cocktail, sporting and labor shoes. Identifying these needs will enable you to clearly define what you are looking for.
Follow these important factors to consider when buying socks online and rest assured that you will find the best and reasonable socks online. It is highly recommended to browse the web to get valuable information about socks or conduct your own research. By doing this, you can be sure that you will find a pair of sock that is worth paying for.
Leave a comment
Comments will be approved before showing up.