Men's Colorful Fun Dress Crew Socks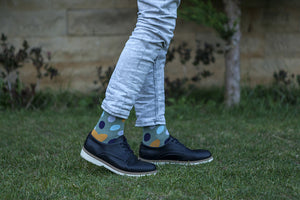 People use socks for many different reasons. For instance, they are relying on their socks for odor and disease prevention. Some people use them for heating or preventing foot pain. However, socks are not here just to keep your warm and comfortable, they can also be used to express yourself. This is especially true for men who must follow a strict dress code. These men find it hard to show their personality and preferences because they have to wear specific dress shirts, pants and tie every day. This is where men's colorful fun dress crew socks come into play. They are here to help any man highlight their originality and stylishness.
There is more than one good reason why colorful fun dress crew socks are an excellent way to show off your personality even if you are practicing a strict dress code. Of course, the most important one is the fact that only the man wearing them knows how trendy and cool his socks are. It's their decision to show their socks to the others. This means that in case they have to be very formal and wear specific clothes at work they can still wear these socks to emphasize their "wild" side.
Socks can be a very creative piece of clothing. Many established fashion companies have decided to introduce lines of this outlet and there are many new companies dedicated to socks manufacturing like "Socks n Socks" for example. People have always been interested in buying socks, but the bold and creative designs found today are taking socks to another level.
The most popular socks are the ones that are fun, out of the ordinary and colorful. Dots in different colors, stripes, and prints, these are some of the designs of men's colorful fun dress crew socks that will make any man stand out from the crowd. It is not unusual to see both young and older gentlemen wearing this type of socks.
Suit wearers should not feel disappointed and restrained just because they have to wear formal clothing. Men's colorful fun dress crew socks are more than a simple combination of cotton and other commonly used materials for this wardrobe outlet. With these socks, you can never cross dress boundaries. As a matter of fact, colorful socks are available in high-quality materials and they are designed to provide a great level of comfort and last for a very long period of time.
One of the best things about men's colorful fun dress crew socks is the fact that they allow men to turn their tidy office style into loosened up bar style in a matter of seconds. There is no need to carry an extra pair of socks; all you need to do is to show off your socks.
These colorful fun dress crew socks are great for any type of personality because they come in different patterns and styles. Don't hesitate to express your personality in a unique way and buy a pair (or two) of men's colorful fun dress crew socks.
Leave a comment
Comments will be approved before showing up.