Sock Etiquette: The Proper Way To Take Care Of Your Socks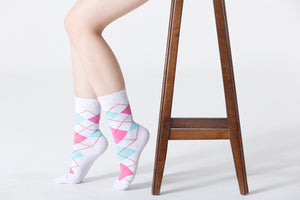 We are going to take a look at some very common, but often overlooked sock etiquette lessons in this article.
Sock etiquette #5 Don't Bleach Your Socks – Ever!
The temptation is real, but you have to overcome it. Bleaching socks is never a good idea. If you no longer like a pair of socks, buy a new one. Why do you have to bleach the old pair?
Sock etiquette #4 No matter how bad they smell, never BOIL your socks!
Seriously, living in a boy's dorm will open your mind to some of the craziest human behaviors on this Earth. Yes, we know that boys tend to wear a lot of socks and that laundry day can happen maybe once a week. However, when laundry day does come around, do not, and we repeat do NOT boil your socks! This does nothing but destroys and weakens the cotton that the socks are made from. Opt to soak them overnight in washing detergent, and after thoroughly washing them, soak them again for good measure.
Sock etiquette #3 Keep Them Together
Socks come in pairs for a reason – so keep them that way. Whenever you take off your socks, train yourself to fold them properly, together and put them away. Even if you throw them under your bed, at least when you look for them the next day, you don't have to waste time rummaging through other laundry to find the other partner. It might take a little getting used to, but its simple sock courtesy.
Sock etiquette #2 Avoid sharp objects coming in contact with your socks
Have you ever wondered how come socks always have holes in them? Well, a lot of times, socks get caught up in sharp objects without us ever noticing. Another way to get that big toe hole in your sock is by maintaining long toe nails. Let it be said once and for all. Long toe nails are not attractive – ever. Love your socks enough to cut your toenails!
Sock etiquette #1 Avoid tumble dryers
Tumble dryers and your socks are not best friends. Hot streams of air are expelled from the dryer towards the clothes and clothing articles in the dryer. This is a recipe for disaster for your delicate socks. If you want your socks to keep well over the months, learn to take better care of them.
Well, that's it, folks, we hope that these 5 basic sock etiquette lessons have shed more light on how to take better care of your socks.
Leave a comment
Comments will be approved before showing up.