Socks manufacturing process | material detail & everything you need to know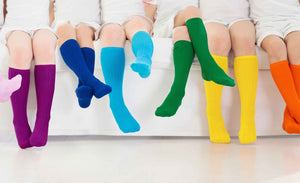 Socks manufacturing process | material detail & everything you need to know
Socks manufacturing is not a high-tech industry, but it involves many detailed processes. Each section of the production must coordinate with each other to ensure quality requirements and time-controlling. In this post, we will talk about the socks manufacturing process in detail.
The whole socks manufacturing process does involve many steps, and the coordination between these steps makes the whole process time-consuming. Sorting out all steps above, there are overall 6 steps that we will mainly talk about as follows: 
Designing socks is a process full of different options and multiple decisions to make. For the process to be successfully done, you need to understand machine coding, then you can dig deeper into the secrets of successful socks designs 
The golden rule here is: feed machines with pixels, not images. Socks machines translate the design into pixels. This means that the more accurate pixels you use in the design, the better results you get.
Different needles of knitting machines mean the widths of flat bitmap designs are different, 96N, 144N, 168N, 200N of machines means the widths are 96, 144, 168, 200 pixels, respectively. And the limit of threads count is the reason why socks can't present gradient or detailed patterns.
With industrially manufactured stockings, workers first prepare the yarn for the machine. If they do not do this, it is easy for the yarn to tear or slip while it is being used by the machine. This leads to long production times in production and unpredictable errors in finishing. The yarn must, by and large, meet a few quality criteria. These range from cleanliness and constant thickness to knot-free yarn.
The suppleness of the yarn also plays a major role. It is also important to avoid the yarn tightening more when it is unwound. Then the winding plays an important role. The so-called (mostly conical) cross-wound bobbins are used by workers in the winding department for setting and loading. These two steps are important. For example, the spool itself: Workers adjust it so that the yarn is constantly pulled off. Also, there is always a reserve to be added so that there is enough material to knot the next bobbin. From there, the yarn runs through an adjustable slot. If something is overlooked during the first quality control, the constriction now removes the protruding fibers.
If knitting machines are used industrially, production must be constantly in operation. It is therefore important to avoid material defects right from the start. After the yarn has been cleaned, it is sealed with paraffin. This makes it supple and is the only way it slips through the machine.
Using programmed codes in step 1, a multitude of needles then knit the various threads into a series of interlocking loops. Computerized sock knitting machines work at high speeds and can easily be programmed to produce a wide variety of socks. 1st inline-inspection is implemented here to avoid mistakes like length, trimming, interlocking, etc.
All parts come out like finished tubes. The great advantage of this is that the finished garments have a minimum number of seams, which allows for better comfort, and eliminates excessive rubbing from bulky seams. After inspecting, turn individual pieces inside out and do linking and seaming processes. Hand-linking, seamless linking, or auto-linking will be applied to different types of socks.
Soon the stocking blanks have passed through the end of the manufacturing process. But before they are ready, they get their fit. That's why they put workers on molds, spray them with hot steam, and soften them. This process allows them to be shaped in a way that they adapt their structure to the shape underneath. This allows individual shapes of the socks. It is different with socks with a "certain something". You have certainly seen stockings with funny applications such as artificial noses, eyes, or ears before. Pimples are in demand for children's socks. Because they prevent our little ones from falling on slippery floors. Such stockings are made by workers manually.
After the socks have passed an extensive quality control process they are ready to be packed following client specifications. The packaging is as important as the sock itself and all aspects are specified and confirmed. Band rolls, header cards, stickers, hooks, clips, hangers, poly bags, pallets, cartons, etc. We can order custom package material from the designated supplier of the client as well. 
Leave a comment
Comments will be approved before showing up.