Some Great Brands Of Socks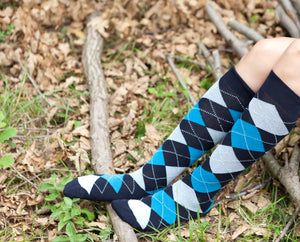 Socks have become part of dressing for men. No dressing is complete without putting on a pair of socks. Men base their choice of socks on several reasons such as durability, comfort, color and even quality of material. Each pair of socks should be for different occasion.
One quality that every sock should have is ability to wick. Every sock should be able to absorb sweat from the feet and distribute it evenly to the outer surface. This process is called wicking. Any sock that lacks the ability to do this should be avoided.
Another important quality of socks that should not be overlooked is sole padding. Every sock should be padded at the sole so as to be able to reduce the friction between the sole of the foot and the inner sole of the shoe. For ease of selection, a list of great brands of socks has been given below.
Paul Smith Color Block Cotton Blend
This fantastic pair of socks is from Paul Smith, a British designer. The socks are soft, elastic and they will make you comfortable. Paul Smith is well known for churning out quality socks. These socks should be machine washed inside out.
Topman Pinstripe Socks
This sock offers black and white pinstripe cotton that gives so much warmth and comfort. It is well padded and very durable. This brand has been in existence for some years now. When it comes to quality socks, Topman is a force to reckon with.
Thomas Pink Holt Socks
You may already know this brand for well cut out shirts. They are equally doing well with socks. The most distinguishing quality of this brand of socks is its wide variety of color combination. Yes, there are several brands that combine colors but only a very few of them get it right like Thomas Pink.
Burlington Leeds
This pair of socks is about the best during winter. They help to keep the feet warm and they also maintain the temperature of the feet. Although this brand offers socks of several lengths, the knee high ones are the most demanded.
Falke Mosaic Blue
This brand combines ruggedness and durability with style. These socks are made of materials that are tough but gentle on your feet. They absorb the sweat of your feet very fast and they are also good at keeping feet odors at bay.
Ted Baker Richlee Stripe Socks
This sock is striped with so many colors and this makes the sock suitable for outfit of different colors. It is also made of very tough materials. It will surely last for years no matter how often you use and wash it.
In conclusion, there are so many fantastic brands of socks worldwide, the ones listed above are just a few of them. To order great brands of socks with wonderful qualities, visit www.socksnsocks.com
Leave a comment
Comments will be approved before showing up.