Things You Never Knew About Socks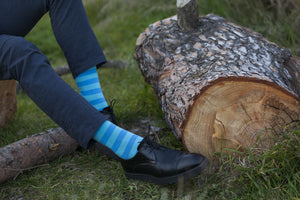 Did you know that in the US alone, the country spends $2.8 billion a year on socks? Yes, socks. It's a booming industry and globally the sale of socks is expected to reach as much as $11.6 billion by 2023. As shocking as this might be to a lot of people, we bet some of the points below are things you never knew about socks.
The Role of Socks in Sport
We all know that socks absorb sweat and perspiration but apart from that do you know why else socks are a mandatory part of a sporting uniform? In general, it is to protect the legs from getting scraped during play. Take football, for example, football players wear long knee length socks for a reason, and that reason is to protect themselves from getting grass burns.
Socks Help Prevent Frostbite
It's a little-known fact that among all the clothes worn by mountain climbers and rock climbers, socks are probably one of the most important clothing apparel worn, particularly for those climbing in the cold. Socks are very important as they keep the cold at bay and prevent frostbite. Frostbite is very serious and can lead to toes and feet even having to be cut off if the person doesn't get help soon. Climbers often wear two pairs of woolen socks for these climbing expeditions.
Blending of Different Materials in Socks is a Modern Invention
The blending of socks is a modern invention. Up until 1938, socks were only made from the same material, either wool, silk or cotton. With the introduction of nylon in 1938, sock makers started stepping outside the norm and began playing around with different sock materials. Today blending helps to achieve a smoother and more durable effect with the socks. You often find stretchy socks and stiff socks. It's obvious that the stretchy socks have had stretch material added to the wool or nylon.
Men in the US Spend Have Been Spending More Each Year on Socks
Men in the US spent on average 14% more on socks in 2014 compared to 2012. This was a surprise as the purchase of socks increased over purchase of tops, pants, and other outerwear. To put it in another way, if we were to average it out, this means that for every American male over the age of 14, they bought at socks totaling at least $23 in 2014.
This surge in sock purchase has piqued the interest of many, to say the least because socks have never been considered as anything more than just a basic commodity. Why would demand change so drastically between the years? No one seems to be able to explain this trend but it appears to be set on continuing at least for a couple of years still.
We hope that you have learned something new about socks today.
Leave a comment
Comments will be approved before showing up.