Tips on Choosing the Right Pair of Crew Socks for Men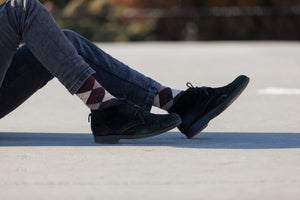 Crew socks for men are usually preferred for sports or instead the activity in which you are involved. These socks are designed in a very special way so you could indulge in any sporting activity and at the end of the day, you will not feel any pain or stress at all. They're crafted in a different way especially on the areas that surround your feet which face more stress, protecting them. Special emphasis was provided to the toes and heel of these socks.
The following are some tips to help you choose the right pair of crew socks to buy:
Sole support – choose the pair of socks that have an important role through the day, simply because it lessens the stress or pressure that has been induced on your heels each time that you walk. It would help save your energy and will make you feel fresh in the end.
Size – just the same with other clothes that you wear, socks must be selected according to their size. A good and popular brand may provide at least 4 to 5 sizes, and one must select crew socks that perfectly fit. Socks that are poorly fitted would leave blisters and any other foot associated ailments. Therefore, you should find out the size of your feet and select your pair accordingly.
Y-heel pockets – you should find socks that have arch support so your foot's arch will be bagged well inside the socks and would prevent the socks from moving.
Thickness – It is necessary to choose a pair of crew socks that are thicker in the material. In this way, it would provide a more cushioned impact to your feet and would absorb the moisture aside from its durability. Woolen socks are ideal for this case since they are providing all of these features. Don't think that woolen is just for winters, since they're good temperature controllers and would keep your feet at an adequate temperature across the year.
Extra protection – search for socks that give extra cushioning to your heels and your toes aside from comfort. You may have noticed that such are these regions that tear first after a long time of use. It is simply because these are those areas that are being pressurized the most.
Finding High-Quality Crew Socks Online
Crew socks are widely offered over the web. To make the most of these socks, it is essential to choose high-quality crew socks. There are many websites where you can come and place an order for a good pair of socks that you will need to wear each time you will play. Crew socks are great for playing.
You should do some research to look for a reliable store online that sells high-quality crew socks. You may look for a store that sells a wide array of socks. These products may come in different styles to choose from. If you want to know more about crew socks, please do not hesitate to visit this website: www.socksnsocks.com.
Leave a comment
Comments will be approved before showing up.