Top 8 Reasons to buy Branded Socks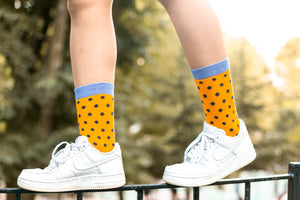 Have you been searching for socks all over the internet?
Are you tired of visiting different e-stores in search for the most perfect socks for yourself? Then you need to forget everything and search for branded socks.
No doubt there are a lot of socks manufacturing companies in the market, branded socks are often preferred by most of the individuals, who know how to shop right from different e-stores. If a particular e-store is into branded socks, you can surely trust its other products as well.
But what makes branded socks so special?
Read below to know the top reasons:
The first thing that makes branded socks so special is the quality. You can blindly trust the quality of socks that are popular in the market because a brand becomes famous when it has a large number of satisfied customers.
Branded socks can be worn for as long as you like; because of the raw material used to manufacture them, you don't feel uncomfortable at all.
There is a lot of variety, when it comes to branded You don't have to waste your time by searching for different socks in the market; once you visit an e-store of branded socks, you can choose all those pieces that you like and own them to wear them whenever you wish to flaunt unique socks.
You can purchase funny socks if you are willing to spend on branded ones. Only popular names in the market willingly manufacture unique socks for both the genders.
Branded socks are always in limited edition. The best thing about buying such socks is that you don't see them on a lot of people in the crowd, since they are not manufactured in bulk. Only a few pieces are manufactured to make the buyers feel special about what they wear on their feet.
If you want to impress your friends or the people you cross paths with, branded socks are all that you need. Branded socks make sure you impress people with your style and class.
Such socks are neither cheap nor expensive; hence, you can buy them since they are quite affordable.
There is nothing more special than having a unique section of branded socks in your wardrobe; you can flaunt your collection in front of all your friends whenever they visit you.
Leave a comment
Comments will be approved before showing up.