Types Of Socks And Their Importance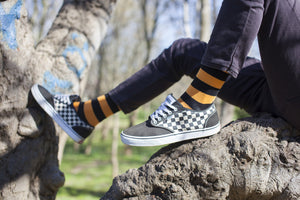 Along with the armpits and hands, the feet are one other part of the body that experiences much sweat. To prevent the growth of bacteria, it is imperatively important to always keep your feet dry. There are several foot problems that can occur as a result of bacterial infections such as athlete's foot, blisters, and a variety of others. However, this can be avoided by wearing the right socks.
Socks are not only meant to cover the feet but they also protect the feet against infection and irritation. Since socks play an important role in a healthy foot, the importance of wearing them cannot be overemphasized. While some people wear socks as a fun fashion statement others wear them to keep their feet warm. It is good to know that wearing socks can help to prevent the occurrence of foot health issues.
No doubt, socks do so much for the leg. Apart from offering that fancy look, they can help in protecting the feet from fungi, cracked heels and even help in sweat wicking. Here are some different styles of socks that can be worn by both men and women to any occasion. 
Thigh High Socks
This is a special kind of socks that goes high above the knee and even gets to the thigh. This pair of socks which is commonly worn by women often brings about a sensual look. You would always bring a stunning look when you pair these adorable socks with miniskirts. For a fabulous look, wear with sandals, high heels, or boots. 
Knee Length Socks
When girls wear their long knee length socks with boots, they often bring about a high-end fashion. This was part of the British Army uniform which became a popular girl's uniform accessory in the 80's and 90's. During harsh winters, this style of socks is usually popular due to its ability to provide complete protection while playing. 
Calf Length Socks
Although this type of socks also provides some coverage, however, it does not go above the knee. You can wear this with dresses, women skirts or shorts and look cool wherever you go. 
Mid-Calf Length Socks
Mid-Calf length socks are socks that are shorter than knee length socks but longer than crew socks. As a perfect dress sock, they provide more coverage. 
Crew Length Socks
From the heel to the cuff, these socks are often 6-8 inches long. Apart from giving warmth during winters, they provide protection to the feet in rough terrains. 
Quarter Length Socks
While helping you to avoid blisters from shoes, this style of socks is designed to cover your ankles. 
Ankle Length Socks
If you are looking for a perfect pair of socks for your low cut shoes, then you need to go for the no show socks – low cut socks or ankle length socks. This is a must-have in everyone's wardrobe that can wick the sweat away and at the same time prevent blisters.
Leave a comment
Comments will be approved before showing up.