Valuable Information about Men's Socks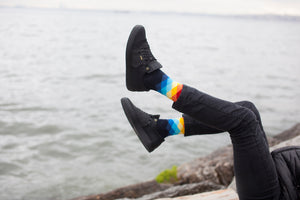 Socks are important elements that are usually overlooked and disregarded. Some men oftentimes neglect to choose a couple of socks to complete his great outfits. There are several men who ruin their grand attire by pairing a pair of socks having wrong color that do not match with their clothes and some men innocently put on white socks with anything. Here, you will learn the basics that you should take into account when it comes to socks.
Athletic socks are made of cotton and are available in gray or white colors. They also come in low-cut so if you put on your sneakers, the socks are nearly invisible. They are also made from wool, cashmere, fine cotton and silk.
When shopping for the sizes of socks, there is nothing bad than buying socks that do not fit your size. Make sure that the heel of the pair of socks must be exactly in your heel, not above it or below. Normally you have to pick the size bigger than the size of your shoes.
If the sizes of the socks only appear in large, medium or small, check brand name and see what sizes of shoes they cover. For example, if they say that the medium is 5-9, you get the size and if they are too large for you, get the smaller size and check if it fits you. The more comfortable to wear the better is your choice. Make a rapid check on your socks right now and take away all socks that do not fit you anymore.
The purpose why you wanted to match the color of your socks to your pants is because of your desire that your outfit will visually run from the top to the bottom. If the socks harmonize with the shoes, then the eyes of the people will stop at the last part of the pants because the pants and shoes look like separate. If the socks match with your pants, then you will let the vision to flow down into the sole of pair of shoes.
Through this, it separates the accessories and the attire but it is well-coordinated at similar instance. For example, navy socks must be worn together with navy attire and brown pair of shoes and not brown socks. Charcoal suit together with black shoes become more fashionable with dark gray colored socks.
Socks are just a little part of your attitude but due to its importance, be sure that your feet are covered with the right socks. Since socks go through a lot of wear and tear, it is highly recommended to change them at least once every 6 months. You need to have a minimum of 5 pairs to get you going. Socks with visible holes can reflect your careless attitude and negligence. Men's socks are over and over again a forgotten piece of clothing. But do understand that it is an important item to complete the silhouette from head to toe. After all, who doesn't like a well-dressed man?
Leave a comment
Comments will be approved before showing up.