What Are Sports Socks?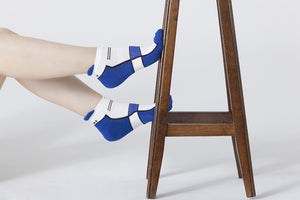 Can a Good Pair of Athletic Socks Make a Difference?
Most of you think that a pair of socks is just a pair of socks, right? You think that there isn't anything special about socks? It probably is before but not anymore. Even a pair socks could be technologically advanced to the point it can improve your athletic performance.
What Are Sports Socks?
Sports socks are especially designed socks for athletes or those who are into sports like basketball and soccer. Such socks are technologically engineered to help sportsmen, improve their performance and reduce the risk for injury. For instance, there are socks that are specifically designed to which foot the sock is for.
Each pair of socks is strategically designed to have cushion zones to provide support and comfort for specific part of which foot. Maybe it is a little weird to find out your right sock is different from your left sock but really, your foot does have specific needs. If you are into sports, it makes it important that such differences are addressed.
For that reason, today's sports socks give extra effort in the design, adding extra padding ad cushioning where there is a need for it. This way, the foot will not be beat up with strenuous activities and at the same time gives the player bigger range of motion.
Compression Socks – Does it Actually Help?
One of the most common athletic socks is the compression socks which are mostly used by runners as it promises faster marathons as well as quicker recovery. Manufacturers of compression socks profess a number of benefits including increase in oxygen delivery, prevention of cramps, decrease of lactic acid and even minimizing muscle fatigue.
With all these amazing benefits, it is no wonder than such garments are thought to be the hottest new item for athletes. Many runners and athletes do trust compression socks and other similar garments but researchers still don't have clear answer for it. There is very limited evidence that exists that compression socks do improve performance when you wore it for exercise.
While it is not clear if compression socks and tights do help improve one's performance, there are some studies and tests that give positive results. Some tests show that there is a slight improvement to one's performance when they wore compression socks. At the same time, there is small increase found in terms of anaerobic exercises.
Additionally, another study comparing athletes wearing compression socks, knee-length socks and those not wearing socks at all found that those wearing compression socks sustain much less muscle damage and are said to be able to recover more quickly from muscle strain. This is a good consideration for the benefit of wearing compression sucks compared to ordinary socks.
Of course, there aren't plenty of studies conducted enough to support the benefits of compression socks. Mostly, these are accounts and statements from people who have used compression garments before. That being the case, wearing compression socks or any other kind of sports socks well depends on your consideration of such products.  
Leave a comment
Comments will be approved before showing up.