What causes blisters? Socks or your shoes?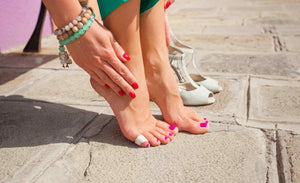 For many around the world, blisters are an all too normal occurrence. Whether it be walking, running, or exercising, these kinds of blisters may emerge from any repetitive movement or source of friction. The abrasion from these motions then removes the outermost layer of skin from the other inner layers, resulting in a pocket that is then filled with fluid by the body.
But what is responsible for these nuisances? Shoes? Socks? Or some other factor?
Shoes 
Sometimes, badly fitted shoes can cause blister formation. Blisters, calluses, runner's toe, and many more problems. Shoes that are too big cause the foot to move too much when running, causing excessive friction on areas of the foot known as "hot-spots" that can contribute to the development of blisters and calluses.
Anyone who puts a lot of miles on their shoes – whether through work or high impact exercises like running – need to take extra care in finding the right fit. When the shoe's fit is as good as it can be, "hot-spots" are minimized and friction is reduced. Yet, as often is the case even the best fitting shoes can cause blisters.
Socks 
Socks are also seen as a source of blister formation. Wearing cotton socks, in particular, can make the potential for blister formation much worse in comparison to wool or synthetic socks because cotton socks absorb sweat. This only serves to keep your feet damp for extended periods which then exacerbates blister formation.
Taking care to choose the right socks can do wonders to prevent foot blisters from forming. But even the most advanced moisture-wicking sock can still cause those unsightly and painful blisters to form.
Friction 
Science suggests that it is not the socks or the shoes that you wear, but the friction between the two and your feet that is responsible for foot blisters. 
Repetitive movements, such as those that happen while running, allow friction to occur. The main culprit and cause of foot blister formation is this friction coupled with the humidity from sweating.
Ways For You to Prevent blisters 
You get a blister due to friction where your toes, heels, and the sole of your foot rub against the shoe. Everybody has feet of different shapes and sizes, and there is no single shoe that will be right for everyone. Getting the right size and shape is the first step to help prevent blisters.
Forget the cotton socks—stick with synthetics. Cotton retains your foot sweat, which then softens your skin and leaves it more prone to breaking with friction, which produces blisters. Also, you need to;  
Avoid seams that rub. Check where the sock seams are hitting your toes. Is that where you are getting blisters? Some running socks are specially designed to keep the seams away from the feet. Tube socks are not recommended as your feet are not tube-shaped, and they simply won't fit right.
And Change your socks en route. Many marathoners recommend changing your socks whenever your feet get wet due to rain, or at the halfway point of a marathon.
Make sure to get the right thickness. Experiment with the thickness of your socks. If your socks are so thick that your toes have no room in the shoe, you need bigger shoes or thinner socks. To ensure a correct fit when buying shoes, bring along the thickness of the sock you plan to wear for your workouts and activities.
Wear double layers. Double-layer socks can prevent blisters by reducing friction and wicking away moisture.2 Some double layer socks, such as WrightSocks, even come with a no-blister guarantee. You can also wear two pairs of socks, which is a common tactic for hikers. The inner sock or inner layer of the sock should be of sweat-wicking fabric.
Leave a comment
Comments will be approved before showing up.