What Really Makes Good Socks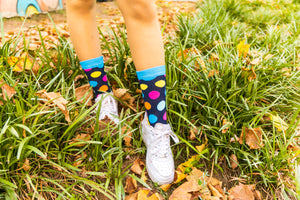 Socks are highly essentials items for men and women and these come in different sizes, styles, designs and of course materials. Socks also come in different types including hiking socks, running socks, health socks, compression socks, performance socks and more. Socks have also become statement items but they are no just meant to show off some style and personality. Socks are also designed to give wearers comfort and protection.
Wit countless types and sizes of socks available in the market today, it becomes quite challenging to choose the best pair that can perfectly fit your needs, preference and your feet. To eliminate your confusion and help you decide on the right socks to choose, you need to ask yourself; "what really makes good socks".
You can tell that you have ended up with good sock if these have the outstanding features displayed mainly by the best pairs. The things that really make good socks are:
Good socks come from premium quality cotton and finest materials to ensure comfort and convenience of wearers.  
Good socks come in ultimately beautiful colors like green, red, purple and more for unique, attractive and sometimes speckled look. Some socks are even printed with contrasting colors.
Good socks are authentic socks. These will never allow your feet to sweat like pig especially during summer months.
Good socks guarantee comfortable fit. Keep in mind that if socks are tight, these will just worsen the effects.
Where to Buy Good Socks?
Buying sock can be fun but challenging at the same time. Also, you really do not need to spend much money just to get good stuff. There are wide ranges of socks available almost everywhere so you need to have good ideas on the best place where you can buy quality pairs.
When planning to buy a pair of two, there is no better place to purchase good socks than online. There is a plethora of socks to choose from that come in different styles, sizes and of course price tags. One of the best things about purchasing socks online is the ease of access to these products and the convenience of getting them without actually spending much time and effort. With just few clicks on your mouse, you can now easily place your order online and give your payments.
Essential Tips When Buying Socks Online
The ease and convenience of purchasing socks online is given but shoppers are still advised to be extra careful and smart while shopping. Prior to making any purchase you need to make sure that the site or online sock supplier is legit and trusted. There are numerous fake sites operating these days so making sure that you are committing with a trusted site can protect you as a consumer. Also, when purchasing socks online, you need to make sure that the site offers original products at reasonable prices.
Keep these essential tips in mind when buying sock online. By doing so, you will surely get the best pair without experiencing any hassle or issue during your purchase.
Leave a comment
Comments will be approved before showing up.