What type of socks You Should wear with shorts?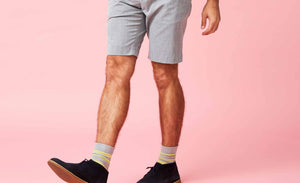 Finding the right combination in your outfit by incorporating socks and shorts can be a difficult task. Many will tell you that this is an impossible feat and that it should never be done. Don't listen to them.
Let's face it: wearing your shoe sock-less will make your shoes smell. Socks are a must. While we agree that in some circumstances it is better to swap out your high socks for no-shows to feel cooler in the heat, we believe that the high sock look can be pulled off. With the right amount of effort, your socks can complement your style or even become the focal point of your Summer or Fall outfit.
As with most of your outfits, you should be dressing for the occasion. If you're wearing a pair of shorts, most of the time, you should wear no show socks, aka invisible socks. To the naked eye, it will appear you're not wearing socks, which is the look to go for. But you know that you are. Today we will talk about the types of socks that go well with shorts. 
Invisible socks 
Your safest bet is to wear invisible socks because nothing can go wrong! Other types of socks can show you've made a bit more of an effort, but these are the easiest option for sure. Go for a pair with bits of rubber on the back of the heel so they won't slide down your foot. And it's the best look for wearing shoes with shorts. 
Tube socks 
If you want to wear longer socks, just make sure they match the color of your shoe , for instance, you could wear white tube socks with white Chuck Taylors. Another option is to match the color of your shoes with the color of the stripes on old-school tube socks.
Colorful socks 
If you want your socks to attract attention , socks can be sort of like jewelry for men , you could wear a minimal outfit (say, all gray or gray and black) with bright-colored or patterned socks. However, pulling off a look like this depends on how eccentric or flashy you normally dress. More bluntly, it's a look best saved for people who are confident in their style choices. Even more bluntly, don't do this unless you know what you're doing.
Think about your shoes 
Something else you need to consider is your footwear. We've already talked about invisible socks, and they are almost always the best option when it comes to wearing shorts. This becomes increasingly true with the more formal your footwear.
While Wearing shoes with no socks (i.e. no show socks) is seen more and more, and is quite popular with loafers or boat shoes in the summer. These are possibly the most formal shoes you can wear with the sockless look 
However, If you're going more casual, the same rules apply, go for invisible socks. The only time where short socks could be seen as OK is with a pair of sports trainers, and as already mentioned, should be OK if you're doing something sporty.
For your general day to day casual outfits, you should be pairing shorts with smart casual footwear and no-show socks.
If you go to the gym or take part in sports, any kind of socks can be perfect. But if you're going out for a run or some other sport, you should wear short socks, or even long socks, if it's anything like football or soccer. This is where function overtakes style, so if you're thinking about sporting activities, socks are usually required.
Leave a comment
Comments will be approved before showing up.