Winter Alert: 10 Reasons to Buy Colorful Socks this Season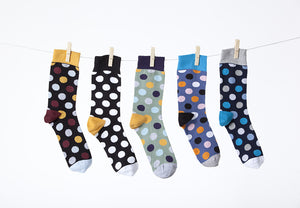 Autumn is leaving and winter is going to spread in a lot of countries now; what are you planning to buy this season? Forget about everything else on the list and think of buying socks, because that's all you are going to need during winters.
If you want to buy socks this season, make sure you search for online funky socks because they are amazing and beautiful things.
Still wondering why to buy colorful make socks or socks for women this season? Read below to know the top 10 reasons:
Colorful socks are beautiful: Why wouldn't you wish to own something that's beautiful? All the colorful socks are gorgeous and that's what makes them special during winters, since this season is all about beauty and colors against the snowy mountains.
You can use colorful socks during Christmas: You can either wear colorful socks during Christmas or simply hang them next to the fireplace you have in your house (or right above your Christmas tree). Colorful socks are awesome Christmas decorations!
Unique male socks are awesome gifts for the men in your family: There are unique male socks that can be beautiful gifts for your husband, father, brother, grandpa or best friend.
Socks are fun: What can be cuter than socks?     
There are hundreds of colors in which socks are available on different e-stores: Red, purple, white, pink, black, gray, mauve – name the color and you'd get it in the market.
You can buy socks from e-stores; there's no need for you to dawdle in land based stores: Don't waste your time by searching for socks in land based stores; e-stores have all the socks you need.
Socks don't get easily dirty during winters: And this is the most beautiful thing about buying socks during winters!
You can wash them whenever you want to: The good thing about buying socks during winters is that you can wash them whenever you wish to, along with the other dirty laundry. In summers, you have to be more particular about your socks.
Socks are known for the kind of quality they have: Most of the socks manufacturing companies make sure they give the best quality to their customers. Thus, you can trust in the quality of what you purchase and wear.
There are branded socks available for you to buy and try: If you are brand-conscious, we have branded socks for you in the market.
Leave a comment
Comments will be approved before showing up.